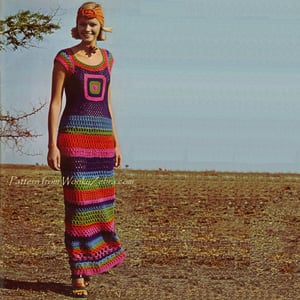 $

3.00 - On Sale
An outrageous "granny square gone mad" hippy dress. Very sixties" flower power" - with a fab vintage boho look – for the beach, evening, festivals- or just relaxing or entertaining at home.
It would be a great "stash buster" or you could plan your colours to blend or clash as much as you like. Great for stepping up from granny square practice ( and just as cosy as a blanket or afghan – but much more glamorous ) !
Also quite easy to 'custom' your own fit.
We send the PDF Pattern as soon as possible; when we have a payment email from paypal. This is normally within a couple of hours of purchase (unless we are asleep - non-UK purchasers please bear in mind the time difference.)
If you don't receive your purchase within 24 hours, please first check your spam folder, then do contact or email to chase. We size our emails to reach you, so you might receive a larger purchase in more than one email.
WonkyZebra is very sorry, but he cannot give refunds on pdf-patterns.